Renowned American fine artist Dona Gelsinger will be on hand for a special appearance and signing. Dona will be answering questions about Glow Decor and the way its unique full illumination enhances the depth and beauty of her artwork. Dona will sign and personalize Glow Decor items sold during the event. Don't miss this opportunity to meet one of America's most celebrated artists. November 4th Noon – 3pm Dillard's @ Green Hills Mall in...
read more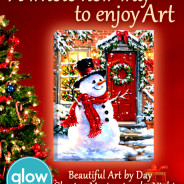 BIG ANNOUCEMENT: For the past year we've been working very hard on an exciting project and it's finally ready to launch. We're proud to introduce our new product line GLOW DECOR, a new innovation in wall decor. Glow Decor prints are an entirely new way to enjoy artwork, both day and night.  Our prints use LED lighting behind the artwork to make the entire painting glow!  During the day the lighting pops the highlights of a print and gives the art more depth and dimension.  When the lights go down, a warm glow lights up the print and the room around it, drawing you in like a cozy fireplace.  These are statement makers in any room, your friends and family will be amazed!...
read more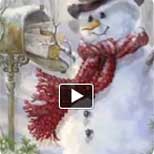 So often we're asked what medium are Dona's paintings created in.  When we tell people they are painted digitally, the response is typically amazement and disbelief.  How can you possibly get it to look so much like an oil painting using a computer, they'll ask.  The answer is, Dona approaches digital painting in the same way as she does her work in oil. Dona painted in oils her entire career up until about 6 years ago.  A typical oil painting takes 4-6 weeks to complete and needs to be photographed before it can go on a product.  The biggest issue with traditional medium in licensing is that you can't easily change or move things around.  With a digital painting created in layers, you can change colors, resize and move elements, add or eliminate things altogether.  When it comes time to apply art to a ceramic bowl or a shower curtain, it's so much easier to have all the elements separated out to work with. If you watch the video below, we've recorded an entire painting from sketch to finish.  You can see stroke by stroke how Dona creates her artwork. ...
read more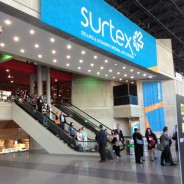 Surtex is officially over and now the follow up begins.  We met a lot of exciting new prospects and have already signed a new fabric company.  We showcased some beautiful collections at this year's Surtex, including a new peacock collection that everyone went nuts over. Who knew giving away Peacock bags would land such a large audience? But it did and we were thrilled. Our intern did an amazing job handing out the 300 some-odd bags during the show. So good of a job she landed the nickname "Bag Lady." But the response was worth the heckle. The next two days you could see those bags around every corner, even at the neighboring shows. People loved them so much they would come back to get a couple more just for their friends. It was a hit! Our booth felt alive, people coming in and out, some old, some new. All of them wanting to see the beautiful new peacock design. Many would come up to us and comment, "Wow… Dona is going in a new direction with her art. It's beautiful." And it was true. Still holding on to her style as an artist, Dona is heading in new directions…and the possibilities are endless. We were able to sit down with many new potential clients as well as our old ones, discussing new directions and new opportunities.With the many new ideas and prospective designs, we hope to keep ourselves busy this coming year. But as fast as Surtex came, it had gone even faster. Before we knew it, we were tearing down the booth and leaving all the splendor of the show behind… But the fun didn't stop at the show. We had the opportunity to sit down and speak with the lovely people from Timeless Treasures Fabrics at their office in SoHo. Thanks to the new Peacock collection (and the roughly 300 Peacock bags floating around the show) we are happy to announce we have signed on with Timeless Treasures Fabrics. We are pleased to be working with such a highly recommended fabrics company. With fabrics so detailed and unique, it is safe to say we were more then elated to get on board. Teaming up with Timeless Treasures, we are hoping to create some beautiful designs for the quilting industry. While leaving the beautiful city of New York, we couldn't help but think about all the new leads that are pulling us along. Surtex was a huge success and we are thrilled to be working with our old and new clients to create some stunning products. We are excited for the many opportunities that have been presented to us and can't wait to start our journey moving forward in new directions…...
read more